NEW Red Nylon Gown with White Lace Trim for Newborns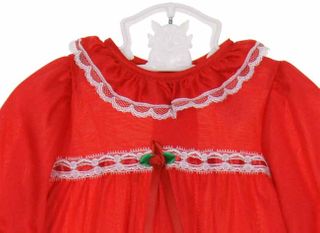 Baby Gowns: Infant Gowns: Baby Layette

Yes, they do still make old fashioned gowns for infants! Here's the most adorable little soft nylon ruffled gown in red for baby!

The perfect holiday gown for your newborn baby girl!

Size newborn shoulder width=7"
Back length=18½

Size newborn will fit to 10 lb.

New

Note: Matching footed pajamas and nightgowns for babies, toddlers, and little girls are also available. See below.

Grammie's Attic has the largest selection of new baby daygowns and vintage and heirloom baby daygowns you'll find anywhere. Be sure to see all of our lovely lacy, smocked, embroidered, and appliqued batiste infant daygowns. You'll find vintage and heirloom daygowns from the early 1900s through the 1960s as well as beautiful new daygowns for your newborn including leading brands Feltman Brothers, Petit Ami, Bailey Babies, Lavender Blue, and many more.

When your new baby is coming home, you want that first outfit to be memorable. Grammie's Attic has one of the most special collections of take home dresses, gowns, and rompers you'll find anywhere! Be sure to see all our precious little outfits and accessories for bringing your newborn baby girl or baby boy home from the hospital..


You may also be interested in:

NEW White Gown with Eyelet Trim

NEW Pink Rosebud Print Cotton Knit Baby Gown with Matching Bonnet

NEW Pale Pink Nylon Gown with White Lace Trim for Newborns