NEW Gordon and Company White Pique Shorts Set with Navy Trim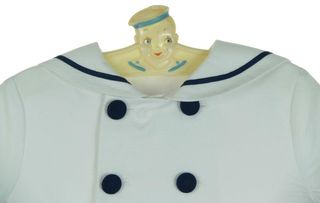 Toddler's Sailor Suits: Boy's Sailor Suits: Gordon & Company Sailor Suits

Here is that hard to find sailor suit you've been looking for in bigger boys' sizes! Made by Gordon & Company, a leading manufacturer of timeless, elegant children's clothing, this classic little white cotton sailor suit is made in the popular double breasted style. It features a short sleeved lined front buttoned shirt with navy anchor buttons. The white sailor collar is trimmed with a row of navy braid. The shorts have an elasticized waistband for a good fit.

This is such an elegant little sailor suit for your toddler or little boy!

Please check the Size Chart below to determine best fit.

New

Matching button-on shorts set and hat are also available. See below.

Grammie's Attic has the largest collection of infant and toddler sailor suits and sailor dresses you'll find. Be sure to see all our sweet baby sailor suits, toddler sailor suits, baby sailor dresses, toddler sailor dresses, little girl sailor dresses, baby sailor hats, toddler sailor hats, and children's sailor hats.