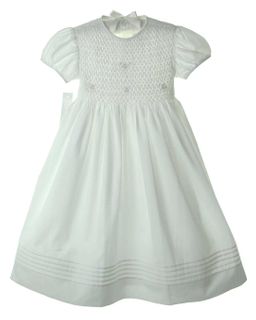 NEW Fantaisie Kids Elegant White Cotton Smocked Dress with Embroidered Rosebuds
If you're planning to purchase this, please don't delay. Quantities are limited to the inventory shown below. Unfortunately, the manufacturer has discontinued this style. Once these are sold, we are unable to restock this style.
Girls White Smocked Dresses: First Communion Dresses: Girls Christening Dresses: Flower Girl Dresses: Fantaisie White Smocked Dresses

This beautiful white cotton batiste dress is made by Fantaisie Kids, a new manufacturer of beautifully detailed children's smocked clothing. It features a fully smocked bodice beautifully embroidered with clusters of white rosebuds. The simple round neckline and short puffed sleeves are finished with narrow bands. The full skirt is finished with a 2" hem topped with rows of pintucks for a beautiful classic look. (Note: Pintucks may differ from style pictured.) The dress closes in the back with three buttons and has a sash to tie in a bow.

What a lovely portrait dress, baptism dress, first communion dress, or flower girl dress for your little girl! It would also be beautiful for a wedding, birthday, or any special occasion.

New

How to measure to select the best size for dresses

Size 4 shoulder width=10"
Back length=26"

Size 5 shoulder width=10½"
Back length=27½"

Size 6 shoulder width=11"
Back length=29"

Size 7 shoulder width=12"
Back length=32"

Size 8 shoulder width=12¾"
Back length=35"

Size 10 shoulder width=13¼"
Back length=37"

Size 12 shoulder width=13¾"
Back length=40"

Size 14 shoulder width=14"
Back length=41&frac12"

Grammie's Attic has an extensive selection of beautiful christening outfits for your baby or toddler including vintage and heirloom christening gowns, heirloom christening rompers, christening dresses, christening bonnets, christening bibs, christening gifts, and christening accessories. You'll find christening gowns from Feltman Brothers, Sarah Louise, Will'beth, Petit Ami, as well as Baby Dove, Allie Wade, Alexis, and more. Be sure to see all of our lovely christening gowns and christening outfits for your baby's baptism or dedication.

Grammie's Attic has a lovely collection of special occasion clothing for your baby, toddler, little girl or little boy. Be sure to see all of our special occasion dresses and special occasion outfits for your baby's, toddler's or little girl's or little boy's most important events, including weddings, birthdays, and portraits.