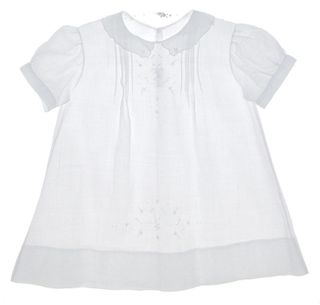 Heirloom 1930s Madeira White Batiste Baby Dress with Embroidery and Scalloped Collar
Heirloom Baby Clothes: Heirloom Baby Dresses

This lovely white cotton batiste dress was hand made in Madeira, Portugal in the 1930s. It features pintucking on the front and back with the delicate white embroidery and openwork for which Madeira is famous. The embroidered collar is finished with scalloped embroidery and the short puffed sleeves have sleeve bands. The dress closes in the back with two mother of pearl buttons and is finished with a 2½" hem topped by delicate white embroidery and openwork.

A darling heirloom portrait dress, christening dress, or special occasion dress for your baby girl!

How to measure to select the best size for dresses

Shoulder width=9"
Back length=15¼"

Vintage/Heirloom

Grammie's Attic has an incredible collection of vintage and heirloom baby, toddler, and children's clothing from the late 1800s through the 1940s. You'll find elegant Victorian and Edwardian dresses, heirloom christening gowns from the 1920s and 1930s, adorable vintage rompers from the 1930s and 1940s, beautifully embroidered heirloom dresses from Madeira and the Philippines, vintage button on shorts sets and wonderful heirloom dresses from your favorite manufacturers, including Feltman Brothers, Polly Flinders, C. I. Castro, and Nannette. Be sure to see all of our heirloom baby and toddler clothes for perfect christening outfits, portrait outfits, birthday outfits, and special occasion outfits for your little boy or girl!