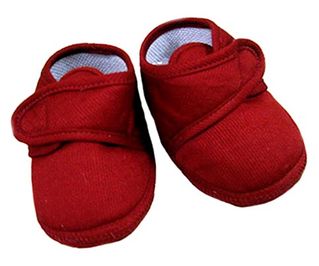 NEW Will'Beth Red Cotton Pique Shoes with Velcro Closure
Baby Shoes: Baby Christmas Shoes: Will'Beth Baby Shoes

Made by Willbeth, a leading designer of beautifully detailed children's clothing for more than 30 years, these darling dark red cotton shoes fasten on the top with velcro closures. Also available in matching girls' style (see below), these adorable crib shoes are perfect for your baby boy's first Christmas, Valentine's Day or any special occasion.

These shoes run small. Please measure baby's foot and order by measurement (at least ¼" longer than foot length) rather than by age.

Size 0 (will generally fit newborn)=3&frac12" long
Size 1 (will generally fit newborn to 3 months)=4" long
Size 2 (will generally fit 3 to 6 months)=4¼" long
Size 3 (will generally fit 6 to 9 months)=4½" long

New

Grammie's Attic has a wonderful collection of new and vintage baby booties, including beautiful embroidered christening booties, elegant silk crocheted booties, toasty warm hand knitted booties, adorable vintage open toe booties, and many more. These sweet little booties are perfect for baby's christening, baby shower gift, newborn baby gift, or just the right accessory for baby's special outfit. Be sure to see all of our darling baby booties!