Call Us 843-388-3158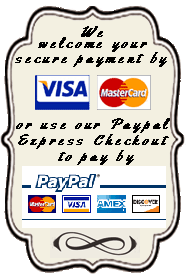 Size Info | Payment Methods | Shipping | International | Returns | email Us

Free Shipping
on orders over $250.00



We ship daily.

Payment Methods



You may pay for your items by Visa or Mastercard through our secure checkout system or by Discover, American Express, or your Paypal account through Paypal's checkout system.

If you use Visa or Mastercard, your credit card information is processed through Yahoo Stores' secure servers with address verification. It may be necessary for us to contact you for your CVC (card verification code) or other additional information if you want the item(s) shipped to an address that does not match your billing address.

Grammie's Attic is a registered Paypal seller. Paypal is a free, simple, secure online payment service through which you can pay with your American Express card, Discover card, debit card, or a checking account. We have chosen to use Paypal as a payment method because so many online shoppers already have Paypal accounts and we are confident that your financial transaction will remain private and secure.

There is no charge to you as a buyer to use Paypal. You may select Paypal's checkout from the Payment page of the shopping cart. You'll be taken directly to Paypal's secure site to process your payment and then returned to our shopping cart to complete your order.

We may also need to contact you if your address is not found in the U. S. Postal Service database so we appreciate your carefully entered telephone number and email address. Otherwise we have no way to contact you with important information about your order. We hope you will set your spam blockers to receive our emails. We are unable to register with the security services used by every one of our customers so we rely on you to ensure that you are able to receive emails about the status of your order.


Click To Bookmark This Page