NEW White Diaper Cover/Panty with Eyelet Ruffles for Babies, Toddlers, and Little Girls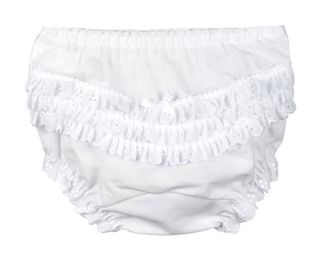 Baby and Toddler Bloomers: Baby and Toddler Diaper Covers: Baby and Toddler Rumba Panties: Little Girls' Panties: Little Girls Bloomers

Is there anything cuter than ruffles on your little one's bottom? This adorable little white rhumba style diaper cover features elasticized leg openings edged with eyelet ruffles. The back has a triple row of eyelet ruffles to peek out when your little one bends over.

So sweet and feminine for your baby girl! Now available to wear as panties or bloomers for your toddler girl and little girl too!

New

Note: This adorable little diaper cover/panty is also available in pink and ecru (ivory). See below.

Grammie's Attic has a large selection of diaper covers for your baby boy or baby girl, including rhumba styles, several embroidered styles, feminine eyelets and lace, denim, and many more. These sweet little diaper covers are the perfect for baby's christening or special outfit or adorable with just a little diaper shirt for the warm summer months. Be sure to see all of our darling diaper covers!


You may also be interested in:

NEW White Diaper Cover/Panty with Eyelet Trimmed Leg Openings

NEW White Pintucked Bonnet with Eyelet Trim and White Satin Ribbon

NEW White Lace Trimmed Christening Socks with Cross Embroidery

NEW White Crinoline Petticoat Slip for Babies, Toddlers, and Little Girls