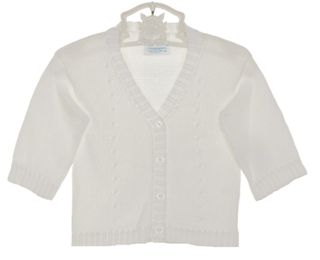 NEW Baby's Trousseau White Cotton Knit Sweater with Cable Design
Baby Boys Sweaters: Easter Sweaters: Baby's Trousseau Sweaters

This sweet little white cardigan sweater is made by Baby's Trousseau, a leading provider of cotton knit children's apparel. Made of soft cotton, it features a V neck with front buttoned closure and a vertical cable design. The perfect take home, christening, or anytime sweater for your baby boy.

This sweater is also available in blue. See below.

New

Grammie's Attic has a lovely collection of sweaters and knitwear for your baby or toddler. Be sure to see all of our sweaters and knitwear for every occasion, including coming home from the hospital, christenings and baptisms, birthdays, and holidays.