Classic Navy Blue Dixie Cup Style Sailor Hat with Embroidered Anchor for Babies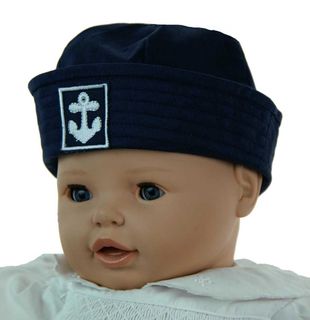 Baby Hats: Baby Sailor Hats

Your search has finally ended! Here is the classic navy sailor hat you've been asking for. Made in the traditional "dixie cup" style, this new pure cotton hat has an embroidered white anchor on the front.This cute little sailor hat will be the crowning touch to any sailor suit or dress.

Perfect for your baby sailor boy or baby sailor girl!

New

Note: This darling sailor hat is also available in white with navy anchor. See below.

Size 6 to 12 months (inside hat circumference=18" approx 45cm to 46cm)
Size 12 to 18 months (inside hat circumference=19" approx 48cm to 49cm)
Size 2 to 3 (inside hat circumference=20" approx 50cm to 51cm)
Size 3 to 4 (inside hat circumference=21" approx 53cm to 54cm)

Order slightly larger than baby's head circumference for the best fit

See Babies' Head Sizes chart for additional information.

Grammie's Attic has the largest collection of infant and toddler sailor suits and sailor dresses you'll find. Be sure to see all our sweet baby sailor suits, toddler sailor suits, baby sailor dresses, toddler sailor dresses, little girl sailor dresses, baby sailor hats, toddler sailor hats, and children's sailor hats.


You may also be interested in:


Classic White Dixie Cup Sailor Hat for Newborns, Babies, Toddlers and Children (Now Monogrammable!)

NEW Will'Beth White Batiste Beret Style Hat for Babies and Toddlers

NEW Feltman Brothers White and Navy Nautical Sweater