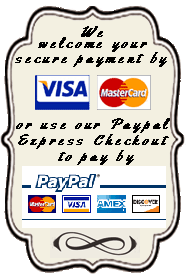 Size Info | Payment Methods | Shipping | International | Returns | Contact Us


Yes we are OPEN and SHIPPING daily.


Authentication of Garment Age



For many of the vintage items we sell, it is impossible to know with any certainty precisely when a garment was made; however, we provide our best estimate of a time period based upon when the item was worn, when similar garments were being created, the features and styles prevalent during particular eras of infant's and children's fashions, and the history of the garments as detailed when we purchased them. We consult an extensive library of vintage clothing catalogs, magazine advertisements, and sewing patterns from the late 1800s through the 1900s, as well as authoritative reference publications to date the garments you find in Grammie's Attic. We do not use museum-based methods to date textiles, nor do we consult antiques experts to authenticate the age of each of our garments. To do so would add significantly to their cost. Therefore, we will not be held responsible for errors in dating garments.


Click To Bookmark This Page